Yamba's first craft brewery
Producing Clucken great beer in Australia's no.1 coastal town Yamba, NSW since 2021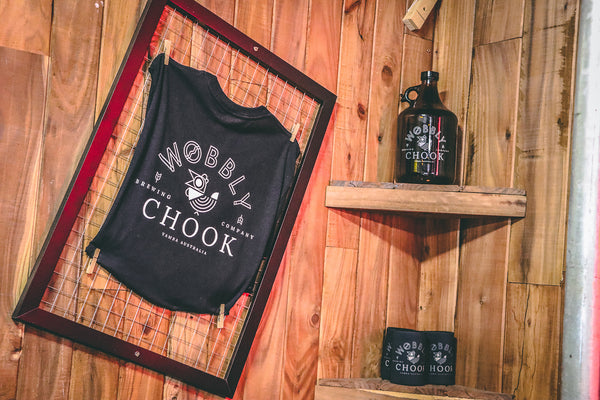 SHOP APPAREL & PRODUCTS
BROWSE THROUGH ALL OF OUR LATEST APPAREL AND PRODUCTS
THE WOBBLY CHOOK
Yamba's first craft brewery producing Clucken great Beer in Australia's no.1 Coastal town Yamba since 2021. Wobbly Chook Brewing Co commenced operation in July 2021, Due to covid Yamba Backpacker Beach Resort was forced to evolve or dissolve and with this the Chook was formed.
We have combined the love of beer and the love of the local area to craft what we believe is some of Australia's best tasting beers.
Central location, buzzing atmosphere, waited less than 15mins for lunch on a busy public holiday (albeit deep fried options, tough for healthy items). Great for a feed & bevs! Thanks team.
B. Wolff
Beautiful unique place. Coffee shop during the day, beer pub at night (they make their own). Great vibes. Fast customer service. Love the variety of food. The one vegetarian option, the mushie, was delicious and well presented. Definitely coming back for the beers at night!
Gaia
Met with friends for lunch. Very impressed with the menu, service and prices. Learnt that very nice accommodation is also available. Most of all the beer (and souvenirs) was excellent. I couldn't recommend this venue highly enough. We look forward to our next visit.
D. Cox